Appocore

: Streamlining Your Digital Product Development
Appocore is an innovative platform dedicated to facilitating efficient and quality-driven development of digital products. It's a collection of proprietary operational and cloud-based software solutions, tailored to meet the specific needs of each project.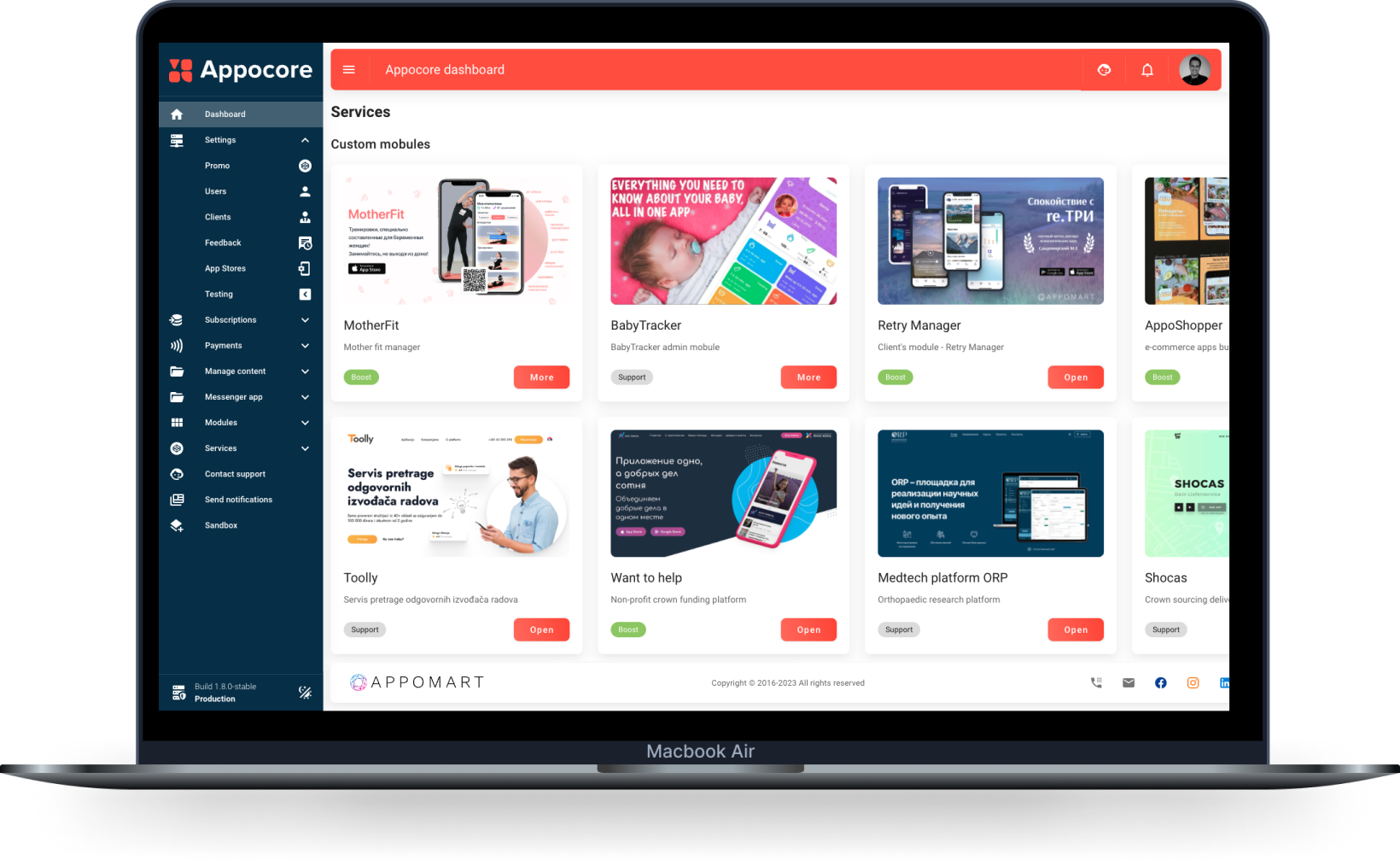 Resource Saving
By employing reliable and tested solutions, time and cost of development are significantly reduced.
Complete Control
Clients receive full access to the source code installed on their infrastructure, ensuring total control and transparency.
Technical Support
Appocore offers a variety of technical support options, including system monitoring, security updates, bug fixes, and more.
Flexibility
The system is designed for scalability, allowing for expansions and modifications as per individual requirements.
Efficiency in Development
Appocore reduces development times by 30-60%, maintaining high code quality throughout.
Packed With Modern and Reliable Technologies
The backend is based on the most popular Laravel framework.
Mobile applications can be build with React Native or with Swift and Kotlin.
Delivery of updates via CI and OTA.
Container architecture allows you to scale your project.
Web application is built with Vue.js, bootstrap and empowered with native UI.
Appocore's functionality
This Features are ready to empover your project
Appocore Passport
Create and manage user profiles from out of the box. Gmail, Facebook, VK, Apple ID, SMS, e-mail registration, login and recovery. E-mail gateway, last seen.
InterNationalisation
Reach global market by using our internationalisation plugin as a single point of contact. Language switcher, TTS and LTR support.
Ticket system
Support service for your guests/registered users by web/mobile apps and by e-mail all in one place.
Notification system
Reach your users with ease. Send push, sms and e-mails notifications from Appocore interface.
Billing services
We support any billing gateway including paypal, stripe or raw bank transfers. Invoicing in PDF manualy or on a subscription basis.
Geolocation addons
Track users current location, fetch addresses and prefill in your app. Search users and content in a specific radius or borders and much more.
Web-socket integration
Get real-time updates of any content in your app: messages, news, map updates.
Consumer features
Customisable solutions: In-app messenger, courier tracking, shopping cart with linguistic search and catalog, blog, news and stories creator.
Calculate in background
Optimized calculations are done by "workers" that help your app run smoothly while serving/fetching/parsing date in background on server.
Security and Data Protection with Appocore
Data encryption industrial grade
Regular updates and security patches
Full control over your data
Data Protection Compliance
Appocore projects in the world
We have implemented more than
15 projects